Who we are
We are a group of independent publishers, website owners and content creators. Our shared goal is to grow our businesses through service to our readers and by taking advantage of market opportunities.
Most of our co-op publishers are not interested in outsourcing ad sales. We are interested in building them. Rather than just being fed filler ads, we intend to maintain control of our own destiny.
Why an "Advertising Co-op?"
We are not going to stand by quietly as advertising networks and data providers try to cheapen the value of our advertising. Ad networks boasting "high CPMs of $4 or $7" are a joke to publishers getting $30, $50, $100 CPMs and more. We are not ready for others to set new ground rules for us.
The co-op approach allows members to take advantage of fellow publishers' sales forces. Now with hundreds of members who directly sell advertising, we can maximize our revenue.
Working together we can create powerful reach and high-value ad packages none of us could sell alone, even with 20 websites.
Working together we can get paid realistic rates for excess ad inventory and make use of ad networks that offer the highest rates.
Working together we can take advantage of technology to level the playing field.
Beginning by increasing our mutual advertising sales, the co-op format allows members to decide how to take advantage of our alliance most profitably. White paper distribution? Video? Cross-conference promotion? As a member, you decide.
Fill out a form or call 301-260-7722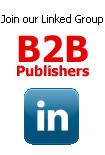 Brief background
Next-Tech Markets began as a publisher of B2B technology information and trade websites serving the niche topic of RFID technology.
The new Next-Tech Markets grew from the merging of two companies. In 2009 we moved our online publishing company to offices in Rockville, Maryland, ten miles from Washington, D.C. We merged operations with publishing support company New Communication Resources LLC.
Principals at New-Com Resources have been helping publishers in the Washington area for nearly 20 years. We pride ourselves on offering proactive advice with real value added to the services contracted for.
Clients who use our publishing services include such well known organizations as the World Bank, The Brookings Institution, Georgetown University, OAS and other associations and corporations.
Proactive Service is the Key
Next-Tech Markets is committed to an active, consultive approach to administering the co-op. With so many new opportunities, publishers will have help with building advertising packages available by telephone during U.S. business hours. Training will be offered to sales teams.
© 2010 Next Tech Markets  |  2275 Research Blvd., Suite 500 | Rockville, MD 20853 | 301-260-7722